Capital Air Ambulance
Airport IATA BRS
Centreline AV Ltd
Bristol International Airport
Bristol BS48 3DP
United Kingdom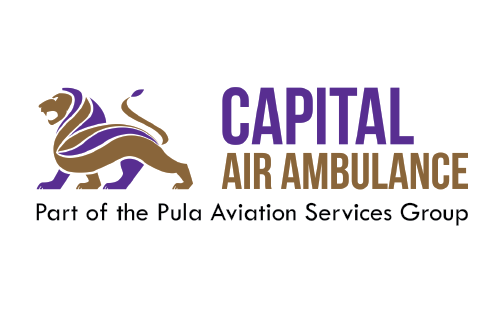 About Capital Air Ambulance
Capital Air Ambulance provides a rapid response to requests for medical assistance and repatriation flights 24 hours a day, 7 days a week, 365 days a year. We also provide medical escorts on commercial airline flights or via ground ambulances and offer medical case handling and/or translation services through our highly experienced, multilingual team. Recently we have purchased our own dedicated Road Ambulances in the UK to enable us to offer a quality service whether meeting any dedicated Air Ambulance or Commercial flight.
Capital Air Ambulance provides bed-to-bed transfers for the full spectrum of patients with acute and chronic medical conditions, using our dedicated fleet of air ambulances and on commercial airliners. Our resources include specialist adult, neonatal and Paediatric equipment, and we fly with critical care capability on board should the patient require this level of care from the outset, or in the event that his/her medical condition deteriorates during the journey. Capital Air Ambulance operates a wholly owned fleet of medically-equipped Beechcraft King Air 200 aircraft.
These aircraft complement each other, enabling Capital to cover the major short haul UK holiday destinations as well as longer distance evacuations and repatriations through our trusted partners with our Wing2Wing solution, including key corporate travel destinations in the Middle East, Africa, and India. Our fleet of aircraft are maintained to the highest standards and are on standby at Bristol airport, in the UK, 24 hours a day, 365 days a year. All flights offer a full on board medical team, tailored to each patient's needs, including doctors and nurses, with ICU and anaesthetic specialists backgrounds.
We at Capital are proud to have achieved EURAMI accreditation and significant endorsements following inspection in March 2017. We also have received a superlative inspection report on our quality of care from the UK legislator on healthcare quality, the Care Quality Commission: England (CQC).
Provider Update
The EURAMI Board & Office congratulates Capital Air Ambulance on [...]
no updates currently available
Accreditation
Certificate Valid Until
Standard Achieved / Medical Endorsements
Primary Accreditation
15th of May 2016
Full Accreditation
Extension
15th of April 2017
Full Accreditation
Extension
31st of October 2021
Long-Range / Intercontinental Fixed Wing Accreditation
Medical Endorsements:

Adult Critical Care
Advanced Adult Critical Care
Paediatric Critical Care
Neonatal Critical Care
EMS Special Care

Commercial Medical Escort Accreditation

Re-Accreditation
23rd of March 2024
Regional Fixed Wing Accreditation
Medical Endorsements:

Adult Critical Care
Neonatal Critical Care

Commercial Medical Escort Accreditation